Restaurant Info.
[Name]
Okayama Izakaya Nishinomaru
旬鮮の里 西の丸
[Tel.]
086-233-0560
[Opening Hours]
Lunch(Tue,Wed,Thu,Fri Only):11:30~14:00(L.O.13:30)
Dinner:17:30~23:30(L.O.23:30)
Open Everyday
[Credit Card]
No credit cards accepted
[Smoking/Non Smoking]
Non Smorking
■A fish shop owner opened this Izakaya restaurant. We serve you quality food with Okayama local seafood and vegetables like sea eels, conger eels, prawns, small fish "Mamakari" and yellow chive "Kinira" etc. Please enjoy our wonderful local food and Sake. Especially very unique local food "Nuku Zushi", steamed conger eel sushi in a bamboo box, is popular.
Sake from Okayama

※tax excluded

Sake from Other Area

※tax excluded

Shochu and Awamori

※tax excluded

Wheat Shochu

Rice Shochu

Poteto Shochu

Okinawa Shochu Awamori

Sesame Shochu

Fruit Liquor

※tax excluded

Japanese Fruit Liquor

Chinese Fruit Liquor

Bevarages

※tax excluded

Cocktail

Whiskey

Wine

Beer

Soft Drink

Appetizers

※tax excluded

Recommend!

Braised Octopus

タコのうま煮/Takono Umani









480yen

Recommend!

Sake-steamed Asari Clams

あさり酒蒸し/Asari Sakamushi









780yen

Recommend!

Beef Tendon Miso Stew

牛すじ味噌煮込み/Gyusuji Miso Nikomi









580yen

Potato Wedges

皮付きフライドポテト/Kawatsuki Furaido Poteto









380yen

Seared Free-range Chicken

(Seasonal)

地鶏のタタキ(季節限定)/Jidorino Tataki









800yen

Sliced Tomato

トマトスライス/Tomato Suraisu









500yen

鶏ナンコツ(大人気)/Tori Nankotsu









580yen

Rolled Omelet

出し巻き玉子/Dashimaki Tamago









680yen

Fried Chicken

鶏の唐揚げ/Torino Karaage









780yen

Boiled Green Soybeans

Steamed Brothy Custard

Rice Dish

※tax excluded

Our Speciality

Steamed Boxed Sushi

ぬく寿司/Nukuzushi
▪Our specialty Nukuzushi is a traditional steamed sushi loved in Kansai Area. We serve you the best Nukuzushi using the highest grade congers directoly from the market. Fresh and thick conger is laid on the vivegared rice, steamed with a special steamer to make it fluffy. A warm sushi with a traditional sweet sauce. Please enjoy our specialty, which is popular among children and adults.


1580yen

Recommend!

Rice and Spanish Mackerelin Broth

さわらのお茶漬け/Sawarano Ochazuke
▪There are many Spanish Mackerel in the Seto Inland Sea. You can't enjoy such a fresh Spanish Mackerel anywhere apart from Okayama!






1100yen

Yellow Chive "Kinira" Dish

※tax excluded

Recommend!

Yellow Chive and Ice Fish with Soft Scrambled Eggs

黄ニラ白魚玉子とじ/Kinira Shirauo Tamagotoji
▪Yellow chives "Kinira" are also one of Okayama's specialties. It is softer than the ordinary green chive which is generally well known, and is characterized by a strong sweetness. Authentic Kinira dishes such as scrambled egg, inique sashimi and so on...Please enjoy our variety Kinira dishes.



980yen

Recommend!

Boiled Yellow Chive

黄ニラおひたし/Kinira Ohitashi
▪This is the best way to simply enjoy the taste of yellow chives.







480yen

"Sashimi" Sliced Raw Fish

※tax excluded

Recommend!

Spanish Mackerel Sashimi

※This photo is for 2 person.

サワラ刺身/Sawarano Sashimi
▪Fresh Spanish Mackerel fish carefully selected by the Nishinomaru owner who was running a fish shop before.Thick Sashimi slice that cannot be tasted easily in other places. Enjoy with cold beer!





980yen

Pickled Harengula

ままかり/Mamakari
▪Pickled Harengula is a Okayama speciality and it's called 'Mamakari' in the Okayama dialect , refers to 'renting rice' fish.Because it is said that the fish is too delicious so you eat all the rice in your house with it and not to make upset the rest of your family, you need to go to rent some rice to your next door.With delicious sour vinegar flavour, the head and bones are all edible. It goes well with Okayama local Sake.

580yen

Boiled Pike Conger with Pickled Plum Sauce

Sea Bream Sashimi

鯛の刺身/Taino Sashimi









800yen

Pickled Mackerel

Mantis Shrimp with Roe

子持シャコ/Komochi Shako









1200yen

Boiled Fish Milt with Ponzu Sauce

白子ポン酢/Shirako Ponzu









680yen

Grilled, Simmered, Tempura, and Fried Dish

※tax excluded

Grilled Dish

Popular!

Grilled Whole Squid

するめいか姿焼き/Surumeika Sugatayaki









880yen

Recommend!

Pike Conger Teriyaki

ハモのテリヤキ/Hamono Teriyaki
▪Summer Pike Conger is said the best but in fact, it is delicious through all year. You can enjoy this fish such as teriyaki, parboiled, shabu-shabu, and grilled.






480yen

Simmered Dish

Fried Fish

Recommend!

Deep-fried Cocktail Shrimp

ガラエビのカラアゲ/Garaebino Karaage









780yen

Deep-fried Puffer Fish

ふぐの唐揚げ/Huguno Karaage









680yen

Sea Eel Whole Tempura

あなご一本揚げ/Anago Ipponage









As Quoted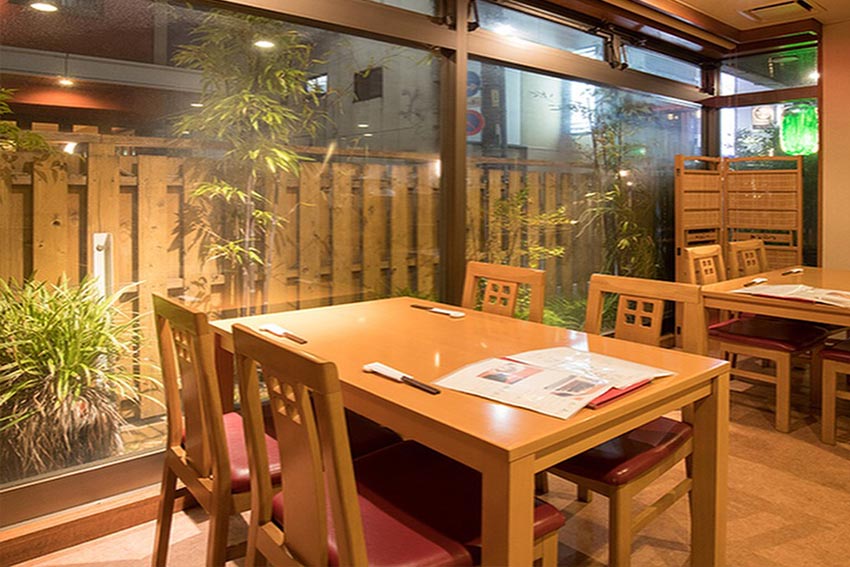 【Address】
4-20 Hon-Machi Kita-ku Okayama-city, Okayama
Benefit Hotel 1F